Countdown to Closeout
DECEMBER 4 - 9, 2022
Countdown to Closeout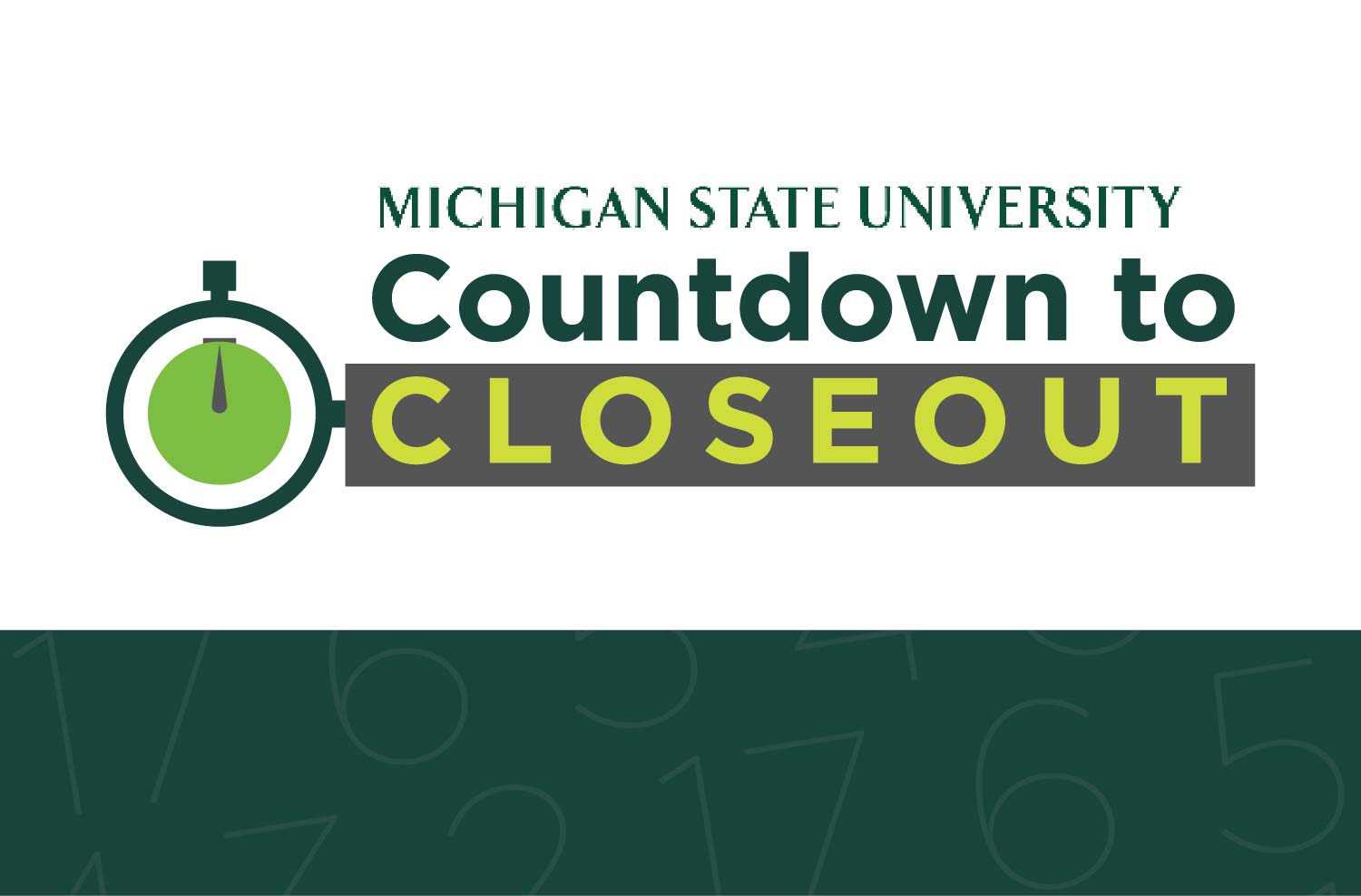 If you are participating in an event during "Countdown to Close-Out", please register your attendance at https://msu.co1.qualtrics.com/jfe/form/SV_bvFMxlJHlCnzHlc.
Click here for the flyer (.pdf)


SUNDAY, DECEMBER 4
"COUNTDOWN TO CLOSE-OUT" KICK-OFF EVENT & MOVIE NIGHT KICK-OFF
8 PM (EST)
Join us on Facebook and "Instagram Live" as we close out the calendar year with "Countdown to Close-Out". We will highlight prize giveaways and events for the week.

Join the Student Involvement and Leadership team along with Residence Hall Association
(RHA) for movie night. Featured on-demand movies can be found via the following link:
rha.msu.edu/resources/rha-ondemand.html.

MONDAY, DECEMBER 5
SPARTAN GAME DAY
7:30 - 9:30 PM (EST)

SPARTAN BINGO (in-person) 7:30 - 9:30 PM (EST) MSU Union Ballroom Join us for in-person Spartan Bingo. You will have the chance to play Spartan Bingo and win great prizes!

GAME OF VIRTUAL TRIVIA 8:00 - 9:00 PM (EST)
We will also host trivia from 8:00 pm (EST) to 9:00 pm (EST). You will have the opportunity to enjoy a great game of trivia and win some great prizes. Connect via Zoom at https://msu.zoom.us/j/94985312687 passcode: CD2022
TUESDAY, DECEMBER 6
SPARTAN SPIRIT TUESDAY
ALL DAY
Post your favorite highlight of the year or a picture of you wearing your favorite
Spartan Gear on #COUNTDOWNTOCLOSEOUT2022
WEDNESDAY, DECEMBER 7
WELLNESS WEDNESDAY FEATURING: GLOW OPEN GYM
6 - 9 PM (EST) EVENT LOCATED AT IM EAST
Join MSU Health Promotion, Recreational Sports and Fitness Services, Student Health & Wellness, and Student Involvement & Leadership will host a "Glow Open Gym" featuring: glow soccer, tag, dodgeball, and other "glow with the flow" activities. Guided meditation sessions will be provided from 7-7:30 PM (EST) in the IM East Multipurpose Room. Check Rec Sports website for more event information or designated activity event times at: https://recsports.msu.edu/
THURSDAY, DECEMBER 8
SPARTAN CONNECT WELLNESS & SELF-CARE BREAK
12- 2 PM (EST) - MSU Leadership Center, Student Services Building
Join the Offce of Cultural & Academic Transitions (OCAT), the Student Involvement & Leadership team and Douglas J Aveda Institute for a wellness and self-care break featuring:
(Event Agenda) 12 - 2 PM
Welcome/Intro Bingo
Massages
Food
Meditation Session
CAPS
Wellness Engagement Activities
Sharing Ideas on Self-Care and Study Strategies for Finals
Network
Make Self-Care Kit

FRIDAY, DECEMBER 9
ULTIMATE SPARTAN FINALS THRIVE PACKAGE GIVEAWAY
12- 2 PM (EST) - Student Services Building, Room 6
Join us for an ULTIMATE SPARTAN FINALS THRIVE PACKAGE GIVEAWAY.
Spartans will have a chance to pick up a package containing items to help prepare for and be successful during finals. Don't miss out!